Illinois Energy
Illinois plays a critical role in our nation's energy security. The state leads the Midwest in refining capacity and is home to the Patoka Terminal, one of the busiest crude oil storage hubs in the region. Pipelines that connect into the Patoka Terminal supply crude oil to multiple refineries in Illinois and across the Midwest, as well as refineries along the Gulf Coast.
Illinois' energy infrastructure also helps stimulate the state's economy and support thousands of family-sustaining jobs. According to a 2019 report on U.S. energy and employment, nearly 114,000 Illinois residents work in traditional energy jobs.
Of those energy jobs in the oil and gas industry, 22,589 jobs are in fuel technology, 5,138 are in petroleum power generation, and 10,056 are in pipeline transportation. There are also thousands of others in construction, manufacturing, storage and professional services related to oil and natural gas. That does not include the hundreds of thousands of other jobs in Illinois that are indirectly supported by the oil and natural gas industry, including 104,031 jobs in motor vehicles.
The oil and gas industry in Illinois also generates an economic impact of more than $3 billion each year, according to the Illinois Petroleum Resources Board. That includes $770 million in annual personal and business income for residents, and royalty income for more than 30,000 people. Annual ad valorem (property) taxes paid by the industry also help support schools and municipalities across the state.
Oil production in Illinois has remained steady over the past 20-plus years, with more than 14,000 producing oil wells averaging more than 9 million barrels per year. The state's four refineries process crude oil into gasoline, diesel fuel, jet fuel, and other petroleum products that Americans use every day. According to the U.S. Energy Information Administration, Illinois ranks sixth among the top 10 petroleum-consuming statesin the nation.
The Patoka Terminal in Illinois
Illinois is known for its coal and nuclear power generation, but consumes equal-to-higher amounts of natural gas and petroleum products each year. Crude oil production is minimal in Illinois, making it dependent on sources outside the state to meet all its energy needs. A critical hub for crude storage is located in Patoka, Illinois, which has a long history as an important intersection for our nation's oil industry. Some of the first oil wells in Illinois were drilled near Patoka in the 1860s, and as production rose, pipelines and storage tanks were built. Over the years, the energy industry has helped sustain local economies in southern Illinois.
The Patoka Terminal is a crossroads for pipelines in southern Illinois where crude oil is stored and then delivered to refineries where it is transformed into gasoline, propane, and other usable energy by-products. Eight separate companies currently own storage and/or pipelines at the Patoka Terminal.
Activity at the Patoka Terminal brings new jobs and provides tax revenue for the school districts. Today, the Patoka Terminal hosts nearly 80 storage tanks, with a total storage capacity of more than 19 million barrels.
The Dakota Access Pipeline, which traverses approximately 177 miles across Illinois, terminates at the Patoka Terminal near the towns of Patoka and Vernon. The additional pipeline capacity out of the Bakken enables producers to increase the amount of domestically produced crude oil that is transported to refining markets around the country.
Statewide Poll Finds Strong Support for Illinois Energy Industry
According to a recent statewide poll conducted by Public Opinion Strategies, the vast majority of Illinois residents - nearly 9 out of 10 - believe the energy industry plays an important role in the state's economy. The poll also found that nearly two-thirds of Illinois residents support optimization of the Dakota Access Pipeline. Read more about the poll here.
"The Dakota Access Pipeline Optimization project is a game changer for safe and efficient energy transportation," said GAIN spokesman Craig Stevens. "By considering an increase to DAPL's capacity, the Illinois Commerce Commission has an incredible opportunity to bolster U.S. energy security, reduce reliance on foreign energy imports, and take the risk off the road by promoting safe delivery of our nation's energy resources. It's noteworthy that so many Illinois residents recognize the importance of their state's energy industry, and this project specifically, in advance of the February ICC hearing."
"The findings from this poll show robust support for the Dakota Access Pipeline and energy infrastructure in Illinois," said pollster Micah Roberts, a partner at Public Opinion Strategies, the firm that conducted the poll on behalf of the GAIN Coalition. "Bottom line, our polling found that the majority of Illinoisans recognize the economic and safety benefits of pipeline infrastructure and favor increasing the Dakota Access pipeline's capacity."
Energy Transfer in Illinois
Energy Transfer is the operator of the Dakota Access Pipeline, and has a long history of operations in Illinois. The company operates more than 2,300 miles of pipeline and related infrastructure in Illinois, and employs 128 full-time personnel throughout the state.
The Dakota Access Pipeline optimization project will include one new pump station along DAPL, one along ETCOP, and upgrades at the Patoka Terminal, totaling up to 300 union construction jobs.
Illinois leads the Midwest in refining capacity.
Illinois's Patoka Terminal is a key hub supporting the nation's energy security.
Nearly 114,000 Illinois residents work in the state's energy industry.
More than $3 billion annual economic impact by the oil and gas industry in Illinois.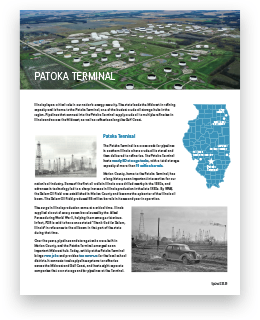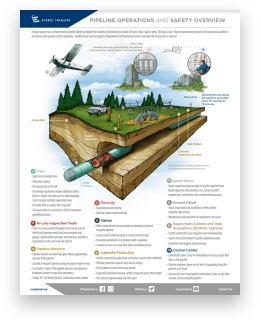 With a population of nearly 13 million people, the state of Illinois is an important economic hub in the Midwest. But what most residents don't realize is that Illinois plays a critical role in our nation's energy security.